A WORLD OF LEISURE ON YOUR DOORSTEP
There's plenty of things to do for all ages in Brixham.
The fishing harbour is buzzing from first thing in the morning when the fish auctions are held, through to the evening when the seafood restaurants are filled with diners and sea shanties can be heard in the local hostelries. This is traditional England at its best. Just across the water, MDL's Torquay Marina is within easy cruising distance, a great place to shop, explore and make the most of the nightlife.
---

DINING RECOMMENDATIONS
HOTEL RECOMMENDATIONS
---
BE SURE TO VISIT
Berry Head is a National Nature Reserve. This stunning headland, with its iconic lighthouse and Napoleonic Fort is surrounded by water on three sides and offer exceptional view across Torbay. Enjoy superb Coastal walks, spot a wide range of wildlife on land and sea or simply relax in the award-winning Guardhouse Café.
---
We Ferry operates lots of different boat trips, from fishing trips, ferries, round robins, sunset cruises and more. Their pledge is to provide quality attractions and the best experiences to their customers.
---
Brixham Battery Heritage Centre
Brixham Battery Heritage Centre are a group of volunteers helping to restore the Brixham coastal defence Battery built in 1940, and to provide on-site information to the public and other organisations. The group uses the Artillery Training Section (ATS) hut as it's Education Centre and Museum.
---
Brixham Heritage Museum was founded in 1958. The building it occupies was formerly a police station built in 1902, with cells on the ground floor and a flat for the sergeant's family on the second floor. The purpose of the museum is to show the people of Brixham, it's visitors and the world, Brixham's history and culture, and its place in world history.
---
Shoalstone Pool is a 53-metre sea water swimming pool situated in a stunning position on Brixham's sea front: one of only a few left in the country. It is built into a natural rock pool that has been popular for bathing since Victorian times. Local people took over managing it in 2014, and their efforts now are focused on both maintaining and improving the current facility and exploring ways of making it sustainable for many more years to come.
---
Close to the mouth of Brixham harbour is Breakwater Beach, one of the cleanest beaches on the English Riviera, South Devon's beautiful bay. Not only is it a Blue Flag beach, but it has a Combined Seaside (resort) Award and been recommended by the Good Beach Guide. There's disabled access with adjoining parking facilities, meaning everyone can enjoy it. Breakwater Beach is a particular favourite for scuba diving.
---
The beautiful little shingle beach of Fishcombe on the outskirts of Brixham is a quiet, peaceful little cove surrounded on all sides by tall cliff and wooded hillsides. The beach is a very sheltered and idyllic spot if you want to escape the crowds of Brixham town. There is a steep path that leads down from the car park to the beach which passes through mature woodland and opens out to reveal the small cove and spectacular scenery. There's also a fabulous café there called Fishcombe Cove Café.
---
Lupton House is a Grade II* building set in beautiful parkland on the outskirts of Brixham. To the south of the main house there is a formal Italianate Garden also listed. A private residence for several generations Lupton House is dedicated to the regeneration of the local community and its historical site with the Lupton Trust leading various highly successful volunteer run projects. The Coach House Cafe is now a delightful cafe open Tuesday to Friday, 10am-3pm.
---
Funfish Trips is a local family run company who specialise in Boat Trips & Cruises in Torbay (and beyond) from the ports of Brixham, Paignton and Torquay. If you are looking for something special to do as a family, a couple, or even alone, Funfish have something for everyone. Their most popular boat trip is an exciting 2-hour mackerel fishing excursion, perfect for all ages – first timers are welcome! They also run daily Wildlife "Sea-Safaris", sunset fish & chip cruises and much, much more.
---
Step back in time and explore above and below the five decks of the full-size replica of Sir Francis Drake's Tudor Galleon in Brixham Harbour.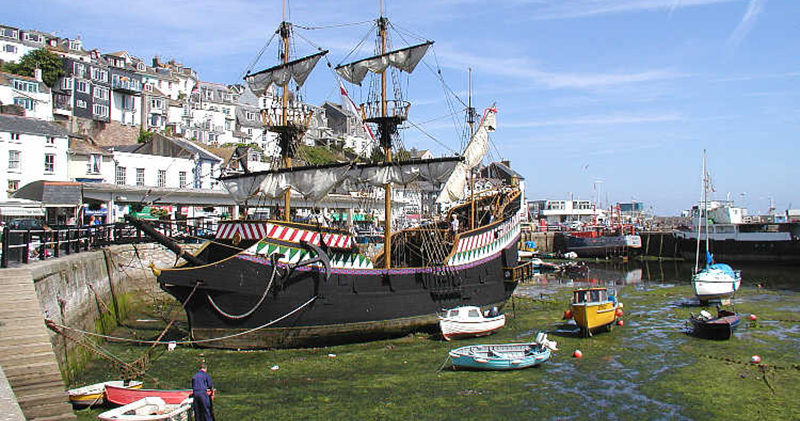 The second replica of Golden Hind in Brixham Harbour.