CAREERS
FIRST CLASS CUSTOMER SERVICE
---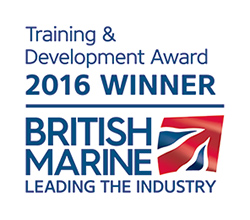 At MDL we're well aware that it's people, not pontoons, who ensure our success.
That's why we go to great lengths to choose the right people to join us – energetic, enthusiastic and talented individuals who share our passion for first-class customer service.
If you're thinking of working in marina management, administration or are interested in marina operations generally, there's no better place to make your career.
---
Careers Overview
As Europe's leading marina group we take training and development seriously. We encourage all our managers to take the Marina Institute's Certificated Marina Manager qualification and aim to nurture the skills and abilities of every member of our 260-plus team. And our commitment pays off - both in the loyalty of our staff and in the number of customers who come back to us time and again. We can't promise that we've a position available but it's still worth getting in touch.
Rest assured that if you do join us, you can look forward to being part of an exciting future.
---
Current Vacancies
It is company policy to employ the best qualified personnel and provide equal opportunity for the advancement of employees including promotion and training and not to discriminate against any person because of their sex, race, pregnancy, disability, marital or family status, age, sexual orientation, religious beliefs or trades union membership.
---
Marina Manager - Hythe Marina Village
We now have a vacancy for a Marina Manager for Hythe Marina Village. This vacancy would suit an experienced Marina Manager or Operations Manager from a leisure operation. The successful individual will work with the existing marina team overseeing day-to-day marina operations and will be accountable for the performance of the operation in all areas.
---
The prime tasks and responsibilities for this role are:
To be responsible for day-to-day operations; to ensure the effective and efficient running of site operations always ensuring excellence in customer service and experience.
To be accountable for the financial performance of your business and run your marina effectively, correctly, and profitably.
In conjunction with the site team, ensure that all daily, weekly, and monthly checks are carried out, along with all routine maintenance to ensure the site remains safe, secure, clean, tidy and well landscaped at all times.
To ensure the day-to-day operation and overall image of the sites reflects the Company's position as market leader.
To ensure all legal, HSE and company policies including financial polices are being adhered to.
To lead and be accountable for all marina and boatyard administration to ensure all records are maintained accurately to yield maximum revenue, assisting with marina and boatyard administration where necessary. To ensure payment is received for all services under the guidelines laid down.
To build and develop an empowered and motivated staff structure that functions flexibly, whilst providing the best in customer experience and site cover.
To instil an ethos of flexible working hours / patterns driven by business demand. To ensure that shifts are managed in such a way that maximum site staff are on site at peak times to include weekends and bank holidays.
To hold weekly staff meetings and undertake appraisals and on-going performance monitoring and management where necessary.
To recruit staff as required ensuing the business is employing customer focused, flexible, smart and positive individuals, while also being responsible for disciplinary matters should the need arise.
To coach staff to monitor customer's satisfaction while constantly improving the customer experience always ensuring excellence in customer service.
To be responsible for social media and assist with creating regular newsletters.
To assist with projects that identify and develop new revenue growth streams and best fit products driven by local market conditions.
To formulate site budgets and pricing policy. To accurately and weekly forecast site activity and create offers to drive activity to meet your revenue targets.
To represent the best interests of Marina Developments at all levels whilst developing the business to make best financial use of the assets.
To liaise with central services whilst ensuring effective communication at all levels ensuring that reporting deadlines are maintained and that the various departments are kept informed of any reportable/relevant issues at your site.
To represent the company's interest with external suppliers or organisations to the best possible advantage.
Working Relationships:
To liaise at all levels with customers, staff, central services and external suppliers/organisations.
To delegate as necessary to fulfil the above aims and objectives.
Performance Criteria:
To manage the business for which you are responsible effectively, correctly, and profitably.
All laid down procedures are adhered to and assigned tasks are completed accurately and diligently at the required times.
To manage site staff to ensure they are providing the best possible customer experience.
Customer requests and problems are acted upon immediately or arrangements made for their resolution.
A proactive approach to customer service and any issues arising is adopted along with enthusiasm and a positive attitude.
To operate in accordance with Health and Safety legislation, HSE guidance and legal, environmental and other Government legislation.
To build and develop a professional close working relationship with senior management, central services and staff at your facility. To include the holding of regular staff meetings and undertaking annual appraisals.
Person Specification:
A manager who has led teams of individuals.
To have previously operated in the leisure or marine leisure industry.
A positive and personable leader that can prove they have successfully coached other team members and developed them as individuals.
Be results orientated and keen to make improvements to already established businesses.
To have operated businesses with a turnover more than £1M.
Have a proven track record of sales growth in either a retail or B to B environment.
To be an effective communicator particularly within their own team showing leadership skills and strong staff management as required.
Able to provide first class customer service.
If you think you have the ability to succeed in this role and would like to join a highly motivated team and take part in a new challenge, we would like to hear from you. Please email for a full job description or submit your letter of application marked 'Private& Confidential' referring to the prime tasks and responsibilities to:
Les Robertson, Regional Operations Manager MDL Marinas.
Email: L.Robertson@mdlmarinas.co.uk
Closing Date: 21st May 2021.