Overview
The Seaward Nelson 27 is a new addition to the range that has found favour for many years with discerning motorboat users and ex sailors alike. The 27 has a longer wheelhouse than the Seaward 25 and a longer hull with a built in transom platform. It shares the impeccable sea boat capability and handling of the other models. Twin diesel inboard engines with V drive gearboxes and shaft drives are standard on this craft, now with the Yanmar 4JH common rail 110Hp engines.
The engines are installed completely independently of each other, each with their own fuel tank and electrical system. The deep 3/4 length keel with twin rudders and contra-rotating propellers make simple work of negotiating the most difficult berth with this craft that will rotate in its own length when one engine is put astern and the other ahead. This amazing manoeuvrability is not just the result of having two engines but is the result of a combination of many other factors unique on a craft of this size and type.
---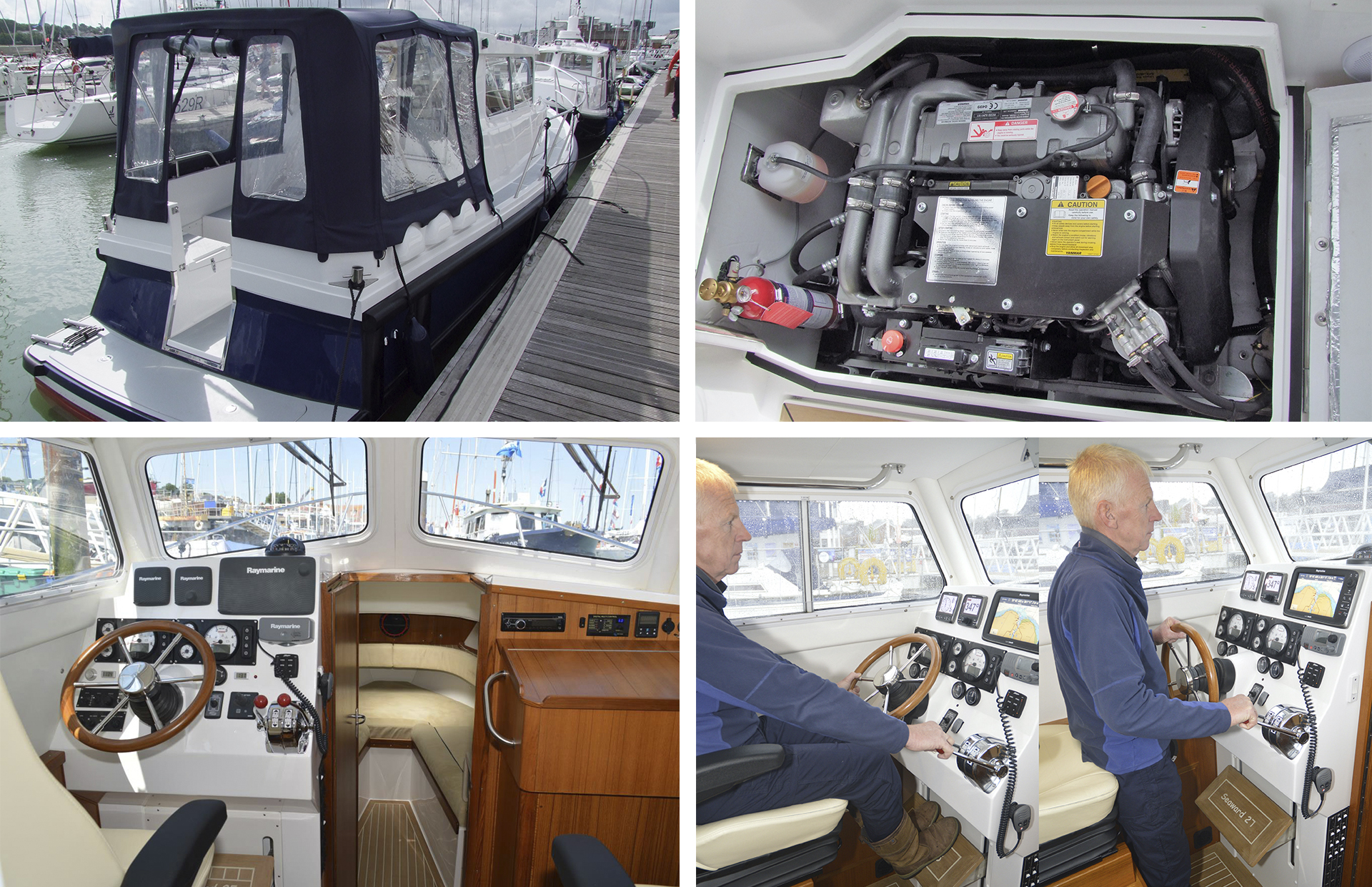 ---
Access to the forward cabin is through an oak door from the wheelhouse with a sliding hatch overhead that eases the access, headroom and visibility in this area The cabin includes two V berths 6′ 2″ in length with a fixed table that is also used as a berth infill that allows conversion to one large double berth. As standard this table may also be used in the cockpit but if the large cockpit table option is selected it cannot be used as an infill. A deep shelf surrounds the whole of the forward area giving ample stowage space.
---
Specifications
LOA: 27′5″ / 8.32m
LWL: 24′2″ / 7.32m
Beam OA: 8′10″ / 2.69m
Beam WL: 7′8.5″ / 2.35m
Draft: 2′5″ / 0.73m
Draft keel to underside of boot top: 2′7.5″ / 0.8m
Air draft afloat: 6′9.5″ / 2.070m
Displacement Approx. (lightship): 3.00 tons / 3,050kg
Fuel capacity: 2 x 33 gallons / 2 x 150 litres
Maximum number of persons: 8 x 75 kilos
Additional load capacity: 150 kilos

---