Overview
The ultimate in trailerable trimarans, described by designer Jens Quorning as the 'Swiss Army knife' of his range; compact, versatile and multifunctional. Dragonfly 28 is our most popular model with over 200 built, and offers 5 full-size berths and standing headroom.
DF 28 is available in Touring, Sport and Performance versions. The accommodation is the same in all 3, but changes to the rig and floats create boats with quite different performance according to each owner's wishes. DF 28 is for the modern sailor who demands multiple roles from his boat. It's as happy gliding up to your favourite beach for a family as it is exhilarating on the race course. Separate cabins, a generous galley and an enclosed heads with marine WC all ensure your family are comfortable and have privacy when cruising.
The famous Dragonfly Swing Wing system ensures it folds quickly to reduce beam by 50% to access a single marina berth or the road trailer, operated from the cockpit and without using any tools.
---
Video
---

---
Specifications (Touring)
Length sailing: 8.75m
Length folded: 9.99m
Beam sailing: 6.50m
Beam folded/trailer: 2.54m
Draft, centreboard up: 0.40 m
Draft, centreboard down: 1.70 m
Weight of standard boat, sail away: 2,100 kg
Payload max, incl. crew: 750 kg
Water tank: 90L
Holding tank (optional): 60L
Engine, outboard: 15 hp
Mast section, excluding antennas: 12.1 m alloy
Mainsail: 37m2
Jib – furling: 18.5 m2
Code 0 furling: 37m2
Gennaker: 60 m2
Bowsprit length: 1.60 m
Trailer, steel total weight incl. boat: 3,500 kg
Max crew for CE - Category B: 5
Max crew for CE - Category C: 7
Unsinkable: Yes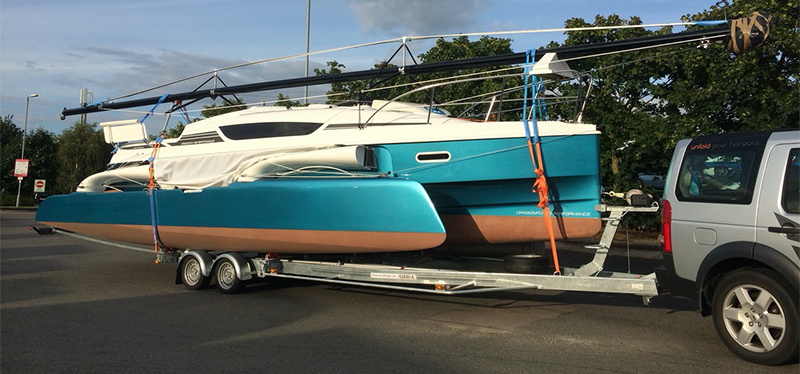 ---